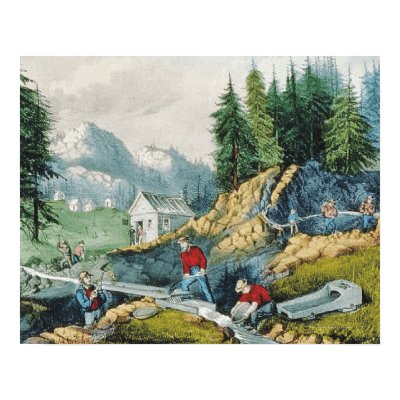 Gold! Everyone loves gold. It brings to mind a sense of adventure, like pirate gold, or security, like golden riches. We are studying gold today, but with a different mindset. Our memory verse is
"How much better to get wisdom than gold!" Proverbs 16:16
. There were
many, many verses
having to do with gold.
I used Printshop to design a bookmark with our verse on it. The children got to choose a colored ribbon to tie in a punched hole.
We did a
pot of gold coloring page/handwriting page
.
I showed them some gold that my husband and I panned out of the
American River
years ago and my golden ring and earrings. We also looked at
pictures of ancient golden jewelry
.
We read parts of some books:
King Midas and the Golden Touch by Nathanial Hawthorne
, illustrated by Kathryn Hewitt
The Story of California by May McNeer
, the gold rush section
Eyewitness: Rocks and Minerals
, the gold section
The Wild West by Tim Wood
, the gold rush section
I didn't use anything from it, but this is a
neat looking resource
!
We could have had goldfish for snack, but I can't stand the
ingredients
in those things. I could have made
hardtack
, but didn't think that would go over well. Instead, we juiced some beautiful oranges and had some fresh OJ with sandwiches.