I pulled an old favorite from the shelf the other day. It was "
Andy and the Lion
" by James Daugherty. Remember that one? I love the graceful
illustrations
: the swing of Andy's books from their tether, the torment in the lion's face as Andy pulls the thorn; and the relief afterward... Troubles, Missy and the 3 year old I babysit listened to the story.
Then we watched
this clip
,
this clip
, and
this clip
on YouTube. After the little one went home, we watched
this amazing video
. We were astounded! The next day I read "
Lion
" by William Pene Du Bois (and discovered that I have two copies each with different covers) and
"The Monkey, The Lion and The Snake"
by Kurt Werth.
We learned that ancient people drew lions on the walls of caves: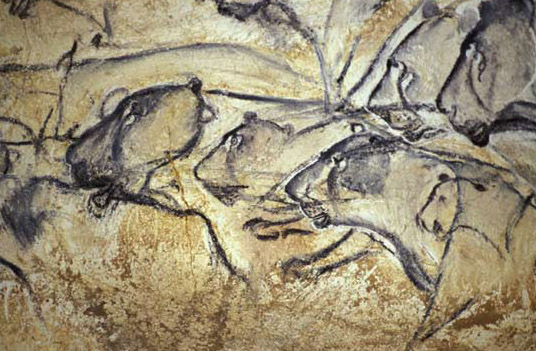 We learned some new lion-related words: pride, savanna, predator, mane, carnivore. We located where lions live on the map. The Littles created lions out of playdough:
We printed off a
lion coloring page
.
We read about Jesus being called the Lion of the tribe of Judah and discussed why he would be called that. We also recalled how David killed a lion that threatened his sheep and that Sampson defended himself against an attacking lion and killed it.
Other books that will be read together over the next few days are:
Pierre: A Cautionary Tale in Five Chapters and A Prologue
by Maurice Sendak (sang by Carole King
in this clip
)
The Happy Lion
by Lousie Fatio
The Happy Lion's Quest
by Lousie Fatio
The Tawny, Scrawny Lion
by Kathryn Jackson
Herbert the Lion
by Clare Turlay Newberry
Various
Aesop's Fables
with lions as characters (there are many!)
A Peaceable Kingdom
illustrated by Alice and Martin Provensen (not really about lions, but the cover is beautiful!)
Dandelion
by Don Freeman
The Big Cats by Herbert Zim
(Lion section only)
ZooBooks: The Big Cats
(Troubles has been
most
fascinated by this one)