... but not
too
scary! I am not a big fan of Halloween. I very much dislike the ugly, death-exalting facets of it. I don't mind "Hallowee-lite" costumes; the innocent, playful Halloween of days past. I'd rather attend a Harvest carnival than trick-or-treat. I do like to read some 'scary' books to the Littles at this time of year. Here's are some favorites.
The Little Old Lady Who Was Not Afraid of Anything
is a classic. Every one of my children has listened to this repeatedly. Now, my older children are reading it to the younger.
Teeny Tiny
is a teeny tiny paperback book that shares an ancient folktale. It's not a very long or complicted story, but children love it anyway.
We were introduced to the the
Cranberry Family
by
FIAR
. This is a fun story with engaging characters.
Another illustrated by Tomie de Paola,
The Vanishing Pumpkin
tells the tale of a couple, each HUNDREDS of years old, bickering their way through a spooky adventure. I think it's a darling story!
Mercer Mayer has a great series of
books with monsters and such
. I avoided these books with little-Littles until they were about six. No need to introduce the idea of things living under the bed or in the closet if they haven't made that up themselves already. If I did have a child with a fear of creatures, I would use these books to assuage them. He also has a series of
Little Monster books
that are similar to his classic Little Critter books.
McBroom's Ghost
is just part of the great McBroom series with which every child should be familiar. I can't say enough about McBoom and his family. I love their tenacity, their aplomb and the simple fact that they are always there for each other.
Mommy?
is a great pop-up books that we have enjoyed. I have even
blogged about it
before.
The Trip
is a sweet book, like all Ezra Jack Keats books. It's another story in the Louie series.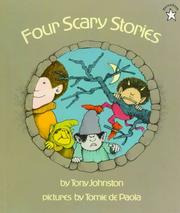 Can I add another Tomie book?
Four Scary Stories
is always worth the read.
What about you, Do you have any favorite scary-but-not-too-scary stories? Please share! I'll post The Crew's favorite Autumn Books next time.